Boners working at modern meat plants and other meat processing enterprises use different knives in their work. To make the working process comply with all the hygienic and sanitary requirements, the knives must be regularly cleaned, and a sterile processing needs a specialized knife basket.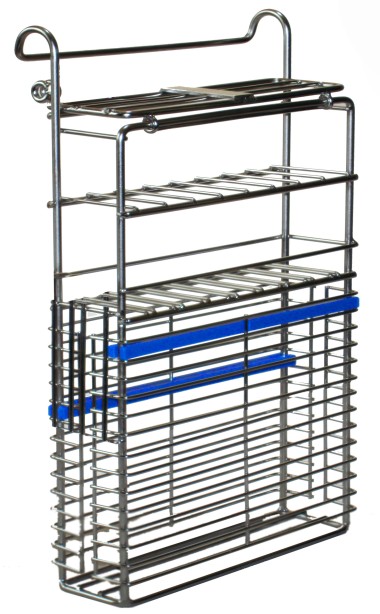 Why is basket for knives needed?
Most often the baskets are used to move, sterilize and store knives, sharpeners, and other tools. Baskets for knives are usually made of stainless steel. A finished product can have different sizes and accommodate from two to twenty or more knives. Some constructions have a special place not only for sharpeners, but also for chain mail gloves used by employees.
The features of this product include the following:
Еasy maintenance;
saving of time and space;
anticorrosive properties;
optimal design without any "dead zones", which ensures complete cleaning;
presence of a special eye loop for a lock aimed at secure closure of the construction;
some constructions are provided with polyamide inserts that prevent knives or other tools from damage.
When baskets are manufactured, the manufacturers check not only the material used for their production, but also the compliance of products with estimated loads, the most suitable angle of shelves, the reliability of the construction and durability of the coating.
Purchase a knife basket on Foodbay
The international Advertisements Board has collected offers from the best manufacturers of the baskets used for sterilizing knives at meat processing plants. For picking up the necessary construction you just need to examine the convenient interactive catalogue on the web site. The use of a filter will considerably simplify the procedure.