Batching machines are widely used in production today. This specialized equipment is designed for work in the production of meat products and gourmet foods for which meat batching is a required technological stage. Such systems are used in meat departments and at large meat processing plants.
Batching machines on FoodBay
The majority of models of batching machines are used in work jointly with mince meat mixers and meat grinders. They are used for batching meat, minced meat, slicing fillet in portions, boneless meat in slabs of necessary sizes, cutting carcasses.
The FoodBay platform presents the following brands of equipment for batching meat:
Vemag ;
KOMPO FPK;
Karpowicz;
Stork;
Servo cutter and others.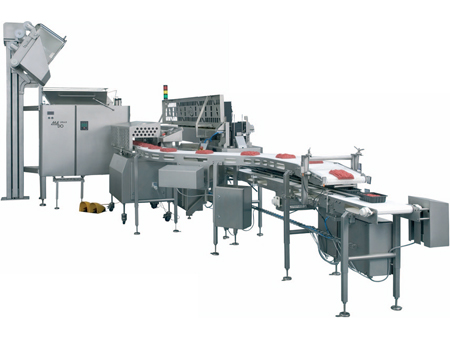 Various types of equipment differ from each other in capacity, performance, and volumes. Knives and other items coming in contact with products in the manufacturing process are made of special types of food steels. Loading can be carried out manually in a semi-automatic or automatic mode, depending on the production scale.
How to buy batching machines
For the convenience of search the users are offered several ways to select equipment for batching meat. You can view the advertisement in a special section of the platform or use search filters with the specified parameters. The platform offers the opportunity to publish your own advertisements on the sale.